Momentum Motorsports partners with Skip Barber Racing School
Apr 23, 2018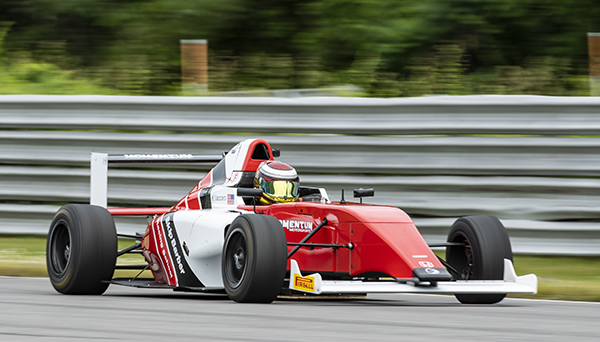 Mentioned in a recent media release that they were working hard to secure a partnership deal, Momentum Motorsports and Skip Barber Racing School are pleased to announce that a deal has finally been inked. Montgomery, New York's Momentum Motorsports is now the official race team of the Skip Barber Racing School as the two will have a dynamic partnership that will create driver opportunities for years to come.
"The new owners of the Skip Barber program have been great to deal with and we have approached a partnership with no egos attached," explained Phil Picard, Owner of Momentum Motorsports. "They have their strengths and I have mine. We are taking the divide and conquer approach but we are all very excited on what the future has in store."
While not all details are ready to be published, Skip Barber Racing School can confirm that Momentum Motorsports is their official team in the F4 United States Championship Powered by Honda. Utilizing Momentum Motorsports to promote their brand, team driver Kent Vaccaro will enter this weekends season opener at the Virginia International Raceway (VIR) with Skip Barber logos on his car.
"Skip Barber Racing School is the gateway to motorsports, partnering with Momentum Motorsports provides our graduates with a premier race team to support their first steps in to the sport," said Anthony DeMonte, CEO of Skip Barber Racing School. "The F4 series has created the ideal environment for new racers to hone their craft while providing real opportunities for drivers to advance to higher levels of racing. This partnership allows us to focus on developing the best drivers in the world, knowing they will have world class support from Momentum Motorsports when they transition to pro-racing."
Picard continued, "The conversation of a working relationship started a short time ago. We were able to supply one of our F4 machines in Skip Barber colors and branding for the recently complete New York International Auto Show where we received some great exposure. From there, we had several discussions and meetings and put together a very promising program for the future of driver development and advancement."
The new owners of Skip Barber have housed their school programs at the ever popular New Jersey Motorsports Park (NJMP) facility in Millville, New Jersey. With a huge shop space, a clean and eyeball catching truck, trailer and awning combination, a track at their disposal and a steady stream of school graduates looking to start a racing career, Picard and his team at Momentum Motorsports will have a program ready and able to accommodate drivers looking to advance their skills to North Americas fastest growing open wheel junior formula car program.
Furthering their 'Karts To Cars' program, karting participants will now have the opportunity to complete a Skip Barber Racing School to learn the technique of open wheel car racing before advancing to a professional race team.
"The same can be said for drivers that come from karting straight to our car program," explained Picard. "Some have the speed right out of the box but lack the proper technique. By assisting them into a school and having a familiar face work with them, we can better prepare the driver for not only a run at our series title, but also for the future and the top levels of motorsport. With the our partnership with DRT Racing at the karting level and now Skip Barber, we have created an internal pipeline to help advance drivers into and through F4 to the new F3 Americas program. Stay tuned."
Details are also still being finalized on a multi-faced program will also see the introduction of a Skip Barber Regional Race Series on both the East and West coast of the United States as well as a scholarship program to help advance the regional level champions.
Kicking off the F4 United States Championship Powered by Honda this weekend, Momentum Motorsports will make the trek south to the Virginia International Raceway in Alton, Virginia. With a Promoters Test Day scheduled for Thursday, official practice kicks off Friday before qualifying and a triple race weekend.