The Pass – Laguna Lore
Jan 07, 2020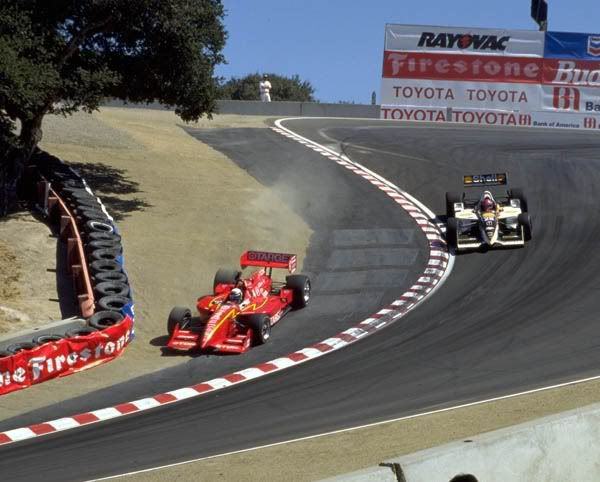 It was a move so bold that even the race announcers couldn't believe what had happened. It's 1996. It's Laguna Seca. It's the final lap of the last CART race of the year. The white flag was up, and the checkered flag was about to be waved. Bryan Herta was in the lead, holding off the dogged pursuit of newcomer Alex Zanardi.
The two drivers charge around the Andretti Hairpin, onto the short straightaway after Turn  3, then through Turn 4. No change. Herta followed by Zanardi. Turn 5, Turn 6, the Rahal Straight, and up the hill to the Corkscrew.
And, then it happened. In a move so daring, so brilliant that it has been handed down in racing lore only as The Pass, Zanardi cut to the inside of the track, accelerated as Herta braked for the steep decline into Turn 8A rocketed forward, and, in a flash, it was over.  Zanardi took the checker, Herta finished second, Jimmy Vasser became the CART Champion, and Laguna Seca became one of the most mystical places in auto racing.
The Skip Barber Racing School is pleased to unlock the mysteries of WeatherTech Raceway Laguna Seca January 13 – 17 with classes ranging from One-Day, Three-Day, and Two-Day Advanced racing schools, the exhilarating Hagerty Driving Academy, and your jump-start for 2020 – Intro to Racing.  The seasoned professionals who are instructing will fill your experience with wisdom, insight, brilliant coaching, and encouragement. This is your chance to learn and drive Laguna Seca.
Alex Zanardi went on to be the CART Champion in 1997 and 1998 and has become one of the most revered, honored, and respected race car drivers in modern times.
Bryan Herta came back to Laguna Seca and experienced the elation of the checkered flag in 1998 and 1999, going on to become an immensely successful team owner and the proud father of Colton Herta, the youngest driver to win an IndyCar race. Both generations are graduates of the Skip Barber Racing School.
If you're not seen it, then take the opportunity to view The Pass on YouTube video. It's pure Laguna Seca, and it's a visual introduction to what can become some of the most incredible experiences of your life.
The last Skip Barber Schools of the season at Weathertech Raceway Laguna Seca will take place January 13-17, 2020
Introduction to Racing – January 13
One Day Racing School – January 13
Three Day Racing School – January 13
Two Day Advanced Racing School – January 16
To enroll call 866-932-1949 or online at skipbarber.com