eRace Series – Round 8 and Championship Results
Jul 14, 2020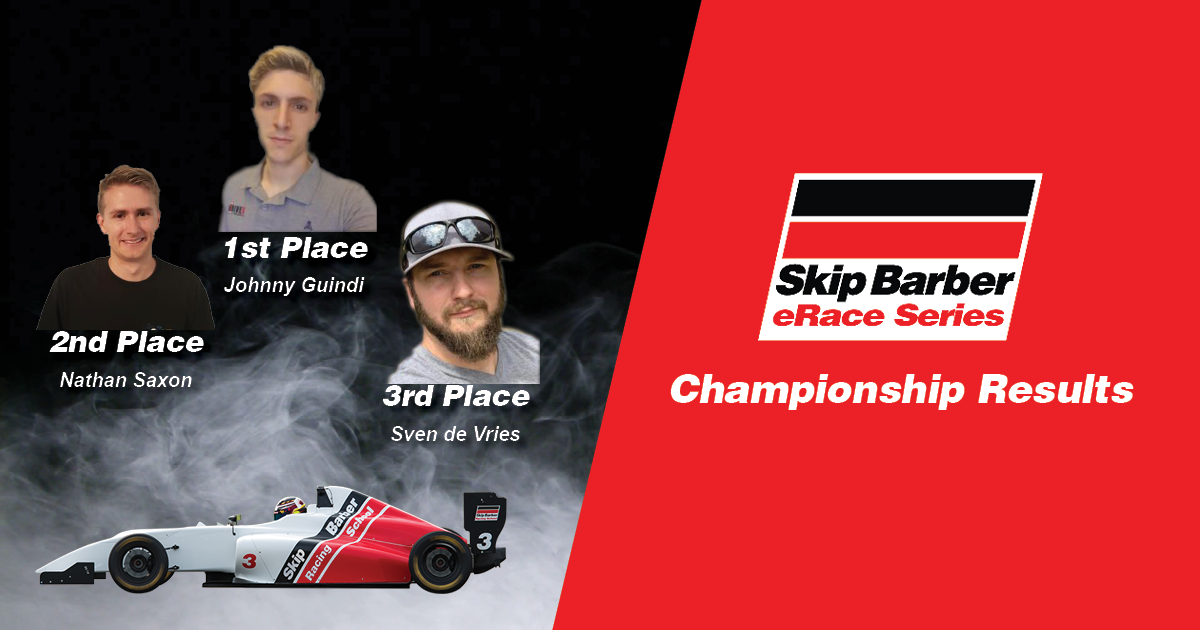 Johnny Guindi continued his dominance in the Skip Barber eRace Series on Sunday afternoon after back to back victories in the final round of the inaugural season and claimed the Championship title along with a full season in the real world Skip Barber Formula Race Series.
Guindi was the fan favorite to claim the championship, leading Nathan Saxon by 45 points at the conclusion of the penultimate round. This is not Guindi's first Esport championship – Guindi won the Worlds Fastest Gamer and was awarded a seat in the 24 Hours of Dubai. For his effort in the eRace Series, Guindi will work with the Skip Barber coaches to transition from sim to real world and prepare him for the racing season. "It's been super competitive, but it's been great, such a nice atmosphere during the races (in the eRace Series). It's uncommon for racers to come together like this when the stakes are so high" said Guindi of the Series.
Finishing second in the standings, Nathan Saxon won a half season in the Skip Barber Formula Race Series. Saxon started sim racing in 2011 but made the jump to real world racing in 2019 when he started competing in regional SCCA Spec Miata as well as AER and Champcar.
Just 11 points behind Saxon, rounding out the Championship podium is Sven de Vries. Sven is no stranger to the podium with over 100 wins in various sim racing series. In 2015, his sim racing career afforded him the opportunity to compete in the Formula 600 Pro Series where he was crowned rookie of the year. Throughout the season, Sven was known for putting the pressure on Guindi – including taking a win from Guindi at Silverstone. For his performance, Sven won a race in the Skip Barber Formula Race Series.
Congratulations to all drivers who competed in the inaugural season of the Skip Barber eRace Series. Season 2 will be announced soon.
The Skip Barber Formula Race Series starts August 17th at New Jersey Motorsports Park. Keep an eye out as these talented racers progress through the season! Skipbarber.com/Race-Series
Results