Guindi wins the Skip Barber Formula Race Series at IMS
Oct 06, 2020
The Skip Barber Formula Race Series headed to The Racing Capital of the World to host the season finale. Johnny Guindi continued his dominance in the series, claiming the 2 podium times, and the Series Championship.
Running alongside GT World Challenge America's 8 Hour Intercontinental GT Race and IndyCar's Harvest GP, the Skip Barber Formula Race Series offered fierce competition for drivers and fans alike. Through Practice 1 and Practice 2, drivers saw lap times drop, and the gap decrease. In Q2, less than 1 second separated the top 6 drivers. Q1 and Q2 saw the same top 3 drives with Guindi on the pole, Dean Lambros in P2 and Tommy Cadwalader in P3.
Courtesy of a great start and drive in to turn 1, Sven de Vries jumped out to the lead for lap 1 of Race 1. In close pursuit, Guindi held P2 with Dean Lambros right behind. De Vries was used to Guindi pressure, having battled him for 8 weeks in the Skip Barber eRace Series, but would give up the lead to Guindi after a move nearly identical to that at Spa in the eRace Series. Ultimately, de Vries would fall to fourth, with Guindi claiming the win, Dean Lambros holding second and Tommy Cadwalader taking third.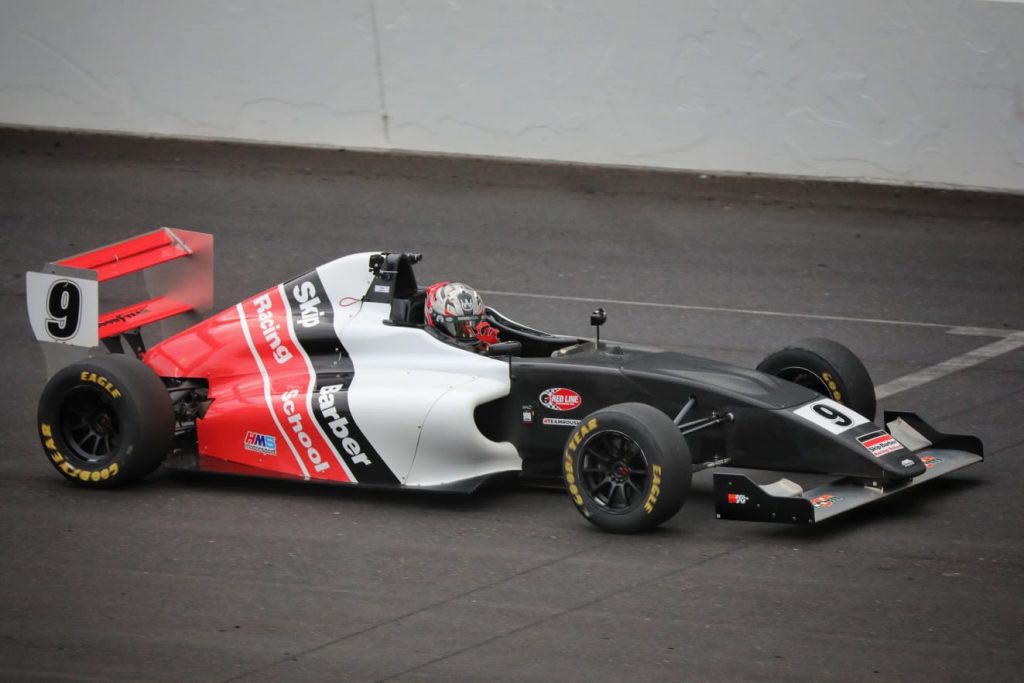 Immediately following the IndyCar race, the Skip Barber Formula Race Series would take the track for an exhilarating conclusion to the 2020 season. With the Championship standings leaving 2nd and 3rd place open for the taking, drivers were eager to earn points in the final race. After Dean Lambros had an incident on lap one, the safety car would regroup the pack. Lambros would be forced to retire from the race. On the restart, pole sitter Guindi would find himself down to P5, with Nathan Saxon claiming the lead. Behind Saxon, de Vries would have to hold of pressure from William Lambros, who was battling for third in the Championship. De Vries and Lambros would swap the lead several times, until Lambros was able to land a pass on lap 8. Farther back, Guindi was on the charge to make his way back to the podium, a feat he would pull of with 2 laps to go. Saxon would go on to earn his first victory, sharing the podium with Will Lambros, and Johnny Guindi.
After 8 thrilling races, the Skip Barber Formula Race Series crowned Johnny Guindi as the Series Champion. Guindi was the winner to the Skip Barber eRace Series and will continue his development with Skip Barber in the 2021 Race Series. Behind him in the points, ever consistent racer Ethan Ho took second. Just 4 points back, Tommy Cadwalader finished 3rd in the standings.
The Skip Barber Formula Race Series will return in 2021, with the schedule to be released shortly. Check out SkipBarber.com or follow @SkipBarberRacing for the latest news!
Results