Race of Remembrance Recap
Nov 16, 2022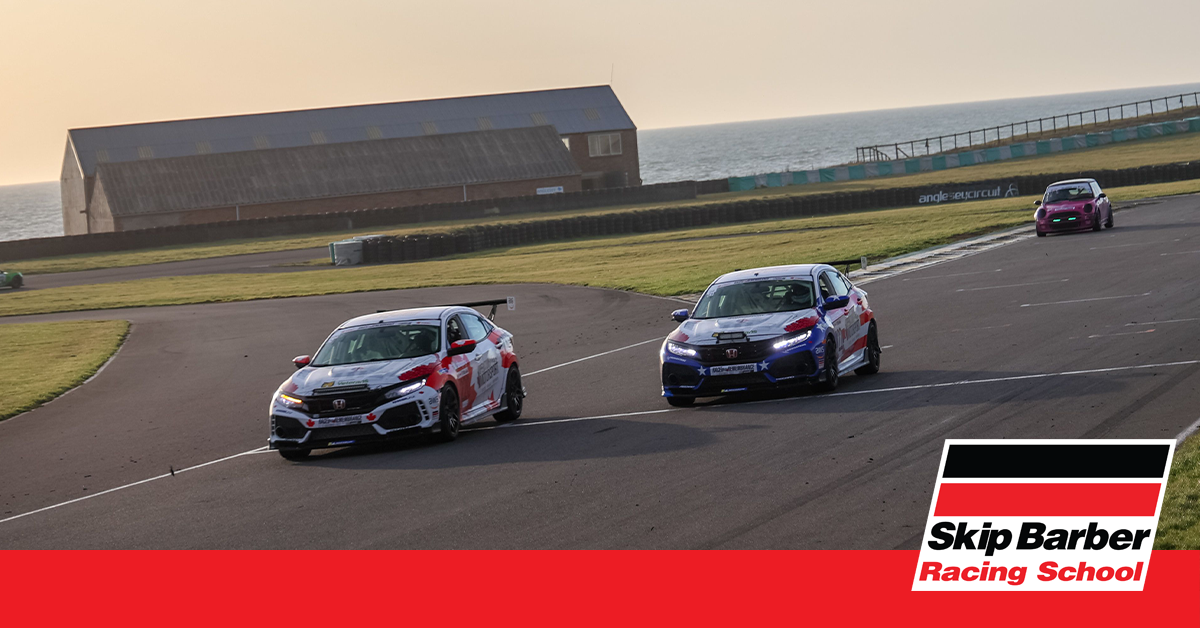 On Sunday afternoon at 3:00 pm GMT at Anglesey Circuit in Wales UK, the pair of Operation Motorsport (OpMo) entries crossed the finish line of the 12-hour Race of Remembrance (RoR) the same way as the pair started the race, side by side, as one team. The entire team on the pit wall cheering them on, grinning from ear to ear with a tear here and there. The P6 & P8 finishes in class (P8 / P12 overall) for Canada #220 and USA #22 exceeded the teams' expectations for the first endurance outing for the Operation Motorsport / Skip Barber Racing Honda Civic Type – R and clearly demonstrated the power of Veteran recovery through motorsport.   
Operation Motorsport was the only North American team in the field of 55 entries competing in the Mission Motorsport sportscar endurance race, which was highlighted by a pit lane Remembrance Service on Sunday morning. The OpMo crews were made up entirely of OpMo beneficiaries (mentored by three Skip Barber Racing School personnel) and for the first time, thanks to driver development training provided by Skip Barber and TWOth Autosport, two of the eight drivers representing the US and Canada were Beneficiary drivers. 
"Returning to RoR after a 2-year break with a larger team and multiple cars was a tremendous undertaking. Watching the team form and prep the cars on Thursday morning after never really working together created an atmosphere of anxiousness and excitement." recalled Race Team Manager & OpMo COO Jason Leach, "The mentorship from the professionals from Skip Barber Racing School ensured the teams' two fielded cars could and would finish the race. Watching our Beneficiary drivers run within a second of each other and not far off the pace of our pro drivers was a previously unimaginable success story. The team struggled from time to time and was challenged across this 12-hour race, but everything came together when we witnessed the Canadian and US car cross the finish line together. I'm truly proud of everyone involved with this program and am already awaiting the next time we can race together." 
"The night of the Heroes dinner I was privileged to meet the force of nature that is James Cameron. (CEO Mission Motorsport UK) He asked me how I was enjoying the track," recollected Jason Bivins, driver #22, "I let him know that it's great, but our practice sessions were cold and wet, and a bit of a challenge for this California boy. He smiled and told me…just wait. You're going to be out on track this weekend and all of the sudden you will see the Irish Sea gleaming, and then off in the distance the beautiful peaks of Snowdonia, and you'll realize how special this place is. This is exactly what happened for me on Sunday afternoon! I was breathless. An unforgettable event." 
"So proud of this incredible group of men & women who crossed oceans to come together as a team and compete in the 2022 12-hour Race of Remembrance," reminisced Travis Hill OpMo board member, TWOth Autosport Principle and driver #220,  "Operation Motorsport was created to support medically retiring and retired service members from Canada and the United States. On Remembrance Day  weekend, they showed just how much progress has been made, both as an organization and individually over the past few years and the impact it's had on all of our lives. It's an honor to get to know these fine people, compete alongside them, and build lifelong friendships. Thank you for allowing me to be part of your journey." 
"I have seen some things and done some others. This was the single most powerful experience I have had since separating," says Operation Motorsport Beneficiary and #22 Crew Member Adam Poppenhouse, "The beneficiary crew Operation Motorsport collected came together in a way that I will eternally cherish. For an entire week, I was blessed with the opportunity to live my dream, as a member of this team, with individuals I greatly respect and have grown to love." 
Huw Leahy driver #220 recalls, "Having brought two cars from overseas with limited room for support tools made the race that much more difficult and riskier for the team. A little creativity and the occasional trip into town kept the cars running to the end and enabled both cars to finish in the top 10 in-class."  
"A picture-perfect photo of both Operation Motorsport cars crossing the finish line at the same time almost didn't happen," recollects Kevin Boehm driver #22, "25 minutes before the end of the race, the cars were 25 seconds apart. Our beneficiaries got together, consulted with others, came up with a plan, and closed the gap WITHOUT losing position. Best of all, both drivers were also beneficiaries and not professional drivers. Many of our military veterans arrived in Wales as strangers to each other, never having worked together. The side-by-side photo finish summarizes end of the 2022 Race of Remembrance—we were a team. Enormously proud of our beneficiaries, you carried the names on the hoods of the cars with honor."  
"The 2022 Veterans / Remembrance Day weekend was very special to me for many reasons," reminisces  Skip Barber Racing School Crew Chief Adam Roberts, "Skip Barber Racing School donated two Honda Civic Type-R race cars, prepped equipment, and shipped them to  Wales, UK from the US for Operation Motorsport to race in the Race of Remembrance at Trac Mon', Anglesey, Wales.  We (Skip Barber Racing School members Mike Stillwagon, Adam Kelleher, and Alex Trotter)  also assisted by guiding and mentoring some amazing Canadian and American medically retired veterans who only a few days earlier barely knew each other and arrived with little racing experience. The race went well, but that's not what I take from the weekend. It was the amazing bond I made with so many there. Being surrounded by Veterans, like myself, was a powerful feeling. Words truly cannot describe the emotions from this weekend. We raced for those who no longer can. I cannot wait until next year when we come back and Win!" 
"The Race of Remembrance, so appropriately named, was a great reminder of the sacrifice and commitment military members make in service to their countries. Being around the beneficiaries' race week was further reminder of the significance of military service, the bond created by a shared, emotionally charged experience, and the physical and mental scars that can be left behind, well after military service ends," said Beneficiary Trustee Craig Neri, "By the end of race week however, it became immensely clear that the scars could heal, and deep, emotional connection and shared purpose is part of that process. Remembrance Day should be as impactful for all veterans and their family members, as it was for us, the Operation Motorsport team, at the Race of Remembrance." 
"Congratulations to all of the beneficiaries, words cannot describe how incredibly proud we all are of this team, each and every one of them have come together and stepped up to the challenge and  demonstrated to all of us how powerful Veteran Recovery Through Motorsport can be", says OpMo CEO & Cofounder Diezel Lodder. "Thank you to all of the drivers, volunteers, partners, and supporters for believing in the mission and helping us get to the finish line with our heads held high." 
Race of Remembrance serves as a way for Operation Motorsport to come together as a team, tapping into the skills and confidence Beneficiaries have gained through Motorsport Immersion activations across the IMSA, SRO, and FEL Motorsports paddocks. In addition to Reeve and Bruulsema, the two Beneficiaries behind the wheel, the team was joined by 11 more Beneficiaries who performed a variety of team duties on the race cars, in pit lane and the paddock. During the week leading up to the event, the team participated in Operation Motorsport team-building activities.  
The Race of Remembrance provides a life-changing opportunity for medically retried and wounded service members to connect with other veterans with shared experiences and challenges while pausing to remember the importance and reason behind Veteran's/Remembrance Day. Camaraderie, team, and remembrance are why Operation Motorsport drivers, crew members, and partners are proud to participate.  
ABOUT RACE OF REMEMBRANCE: 
Race of Remembrance is the brainchild of Jon Earp, Mission Motorsport volunteer and a Welsh Air Ambulance pilot. The race raised money for the Mission Motorsport charity, affiliated with Help for Heroes. Mission Motorsport are appointed by the British Army Motorsport Association and operating in direct support of the Defence Recovery Capability, Mission Motorsport provides respite, rehabilitation, vocational support, and training to those affected by military operations within the framework of Motorsport. Mission Motorsport concentrate on getting injured service personnel back into civilian life after injuries sustained on active duty. 
An array of professional drivers has shown their support of the charity, these include Tom Onslow-Cole Paul O'Neil, Dan Welch, Calum Lockie, Elliott Cole along with Mission Motorsport founder Major James Cameron and Jon Earp. Appearances also include ex professional footballer Luther Blissett and Radio Le Mans commentator John Hindhaugh. 
The race will be paused at 10:45am on 13 November 2022 for a remembrance service held in the pit lane by an army chaplain. The 12-hour endurance race is the first in history to be pause for a remembrance service midway through the race. 
ABOUT THE SKIP BARBER RACING SCHOOL 
With international racing experience, celebrated skill, and the firm belief that competitive race car driving was teachable, Skip Barber founded his legendary racing school in 1975. Since that first class, over 400,000 students have become racers and champions. 
Today, we are the world's largest automotive education and entertainment company offering driving and racing schools at the finest tracks in America. We operate the Skip Barber Formula Race Series, field championship race teams in TC and TC America, create innovative OEM programs that elevate the finest automotive marques, and produce corporate programs that build teamwork and recognize outstanding achievement. 
No experience rivals the Skip Barber Racing School. For more information on our programs, call us at 866-932-1949 or visit us online at skipbarber.com.