SKIP BARBER PARTNERS WITH ADAM'S POLISHES
May 04, 2023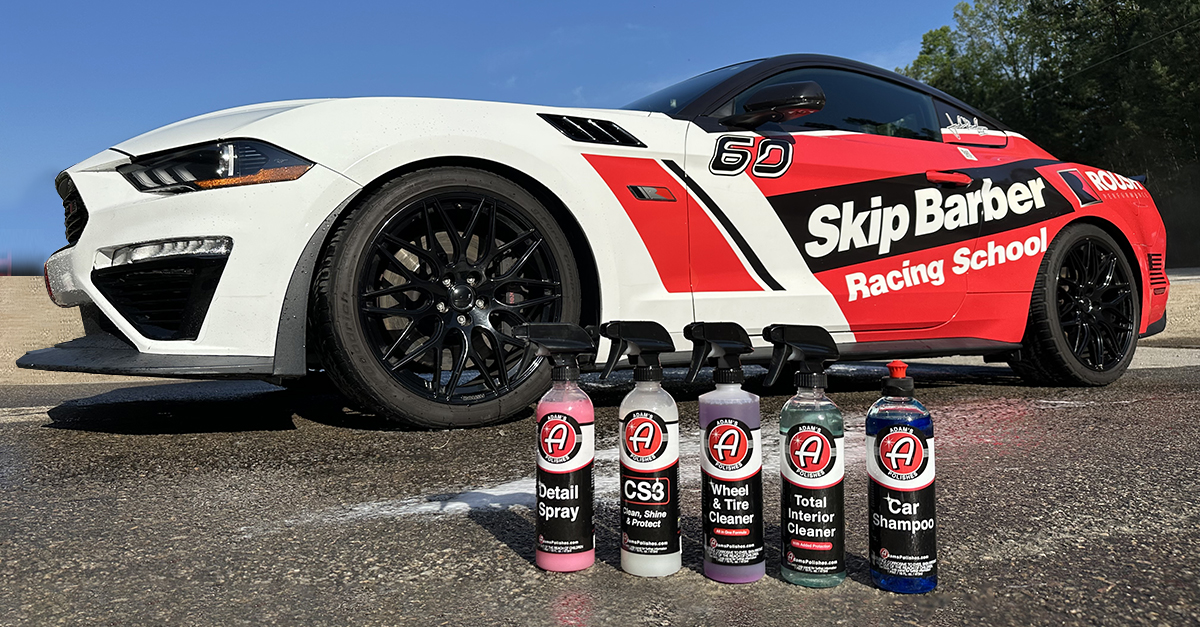 The Skip Barber Racing School announced a three-year partnership with Adam's Polishes today to be the official supplier of premium polishes, waxes, cleaners, and finish care products.
This partnership builds on both brands' years of automotive expertise. Founded in 1975 by Formula One racer Skip Barber, the School has trained over 400,000 students. SBRS graduates have distinguished themselves with podium appearances in all the major international series, including Formula 1, NASCAR, IMSA, SRO World Challenge America, and INDYCAR. When Adam Pitale founded Adam's Polishes in 2000, he wanted to create a detailing culture that changed how people cared for their vehicles. Adam's objective was to take what was once considered a chore, simplify the process, and make car care enjoyable for everyone.
Adam's premium products will be used to clean and protect the Skip Barber Racing School fleet, including race-prepared Ford Mustang GTs, Formula 4's for racing schools, Yamaha Wolverine Off-Road vehicles Roush & Toyota Driving Academy street vehicles, and Mack Anthem tractors with SBRS branded trailers. The Skip Barber Racing Team will also use Adam's products on their multi-time championship-winning race cars in the SRO GT World Challenge GT4 America and TC America Series, which compete nationwide.
In addition to keeping the Skip Barber fleet looking great, a complementary sample of Adam's products will be included in every Skip Barber Racing School student's graduation swag bag. The gift puts Adam's Polishes right in the hands of Skip Barber graduates to experience why Skip Barber chose Adam's. The gift is designed to connect with new and returning Skip Barber students who are car enthusiasts, and anyone with interest in car care, the opportunity to sample Adam's products.
"We are pleased and honored to be able to partner up with such an iconic name in the industry. The Skip Barber Racing School is well known for its contributions in the racing industry, along with the unique experience of allowing students to live their dreams and test their abilities on the track. We look forward to being a part of this great experience," said Alan Sobran, Vice President of Sales.
"Adam's Polishes are legendary in our industry. We are thrilled to welcome the partnership and their passionate team," said Anthony DeMonte, Chief Executive Officer. "Our vehicles are constantly in motion and on display. Keeping them clean with Adam's is essential to our maintenance program, vehicles' longevity, and brand image."
For questions, please call the Skip Barber Racing School at 866-932-1949 or email us here.