BELL REMAINS UNDEFEATED AFTER NOLA
May 08, 2023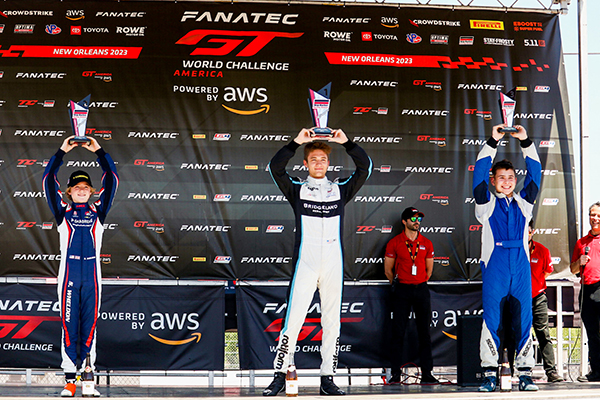 The Skip Barber Formula Car Race Series made its first visit to the winding and fast NOLA Motorsports Park near the famous New Orleans French Quarter. Rounds 3 and 4 of the Championship took place under threatening skies, but the drivers brushed off the weather and produced great racing in front of the SRO GT America World Challenge crowd.
Friday practice sessions yielded familiar results at the top, with Sebastian Wheldon, Jeshua Alianell, and Jaxon Bell posting top times in both sessions. Bell waited until the final lap of Practice 2 to make his statement with a Friday best of 1:46.283. Thomas Tarlton (Masters) and Gabe Tesch rounded out the top 5, not far behind the top 3. For everyone, Practice 1 was more about learning the track, with significant improvements posted in Practice 2.
In Saturday qualifying, Alianell set the Q1 pole time with a new Skip Barber track record of 1:45.878 on his sixth lap. Alianell was closely followed by Bell, Wheldon, Tarlton, and karting champ Caleb Gafrarar. In addition to being 4th overall, Tarlton earned the Masters pole and proved age is just a number in racecars.
Later Saturday morning, Race 1 began in wild fashion, with P2 starter Bell sweeping around the outside of pole-sitter Alianell at Turn 1. Bell would dominate the remainder of the race, with Alianell in close pursuit, waiting for an opportunity. Many laps later, Bell and Alianell caught the lapped car of Bob Perlmutter on the approach to turn 13. Bell and Alianell split Perlmutter, much like Mika Hakkinen and Michael Schumacher at Spa in 2000! However, Alianell missed his brake point this time, forcing Bell into the escape road. The two recovered enough to keep Wheldon at bay for the checker.
Sunday morning qualifying saw Alianell nip Wheldon for Pole by 0.05 seconds. Tesch made a strong statement with his 3rd place qualifying for race 2.
As Race 2 began, Alianell led from the start, with Wheldon, Tesch, and Bell close behind. The door opened mid-race when Wheldon attempted a late pass on Tesch at turn 13, overshooting the corner and taking a trip through the grass. Wheldon's re-entry allowed Bell to pass both Wheldon and Tesch for P2 easily. Bell then used that momentum to chase and pass Alianell for the win in dramatic fashion. Tesch finished P2, followed by Alianell, Gafrarar, and Tarlton in P5. Wheldon crossed the finish line in P2 but received a post-race penalty dropping him out of the top 5.
"Another great weekend of racing for the SBRS series. I am so pleased and proud of the progressions from all the drivers this weekend," said Ken Fukuda, Series Director.
For more information on the Skip Barber Formula Race Series, click here.
Photography: Walter Kemp