get to

know our
instructors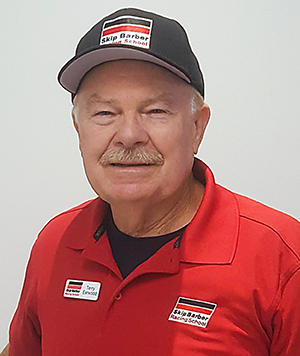 Terry earwood
Chief Instructor
Terry is the winningest driver in the history of the Firestone Firehawk Endurance Series (which became Grand-Am Cup/Koni Challenge). In addition to being our Chief Instructor, he is also the Driver Development Manager for SCCA Trans-Am. It was Terry who brought Driving School curriculum to Skip Barber in 1984, based on a curriculum he designed for the Georgia State Police… He started racing years ago, but it wasn't road racing — it was drag racing. He was the 1973 NHRA Super Stock National Champion (in an SS/EA 1971 Hemi 'Cuda). Numerous Drag Racing National and Regional event wins, three Regional autocross championships. Inducted in the NHRA Southeastern Drag Racing Hall of Fame in 1996 and the East Coast Drag Times Hall of Fame, in 2002.
bruce MacInnes
Senior Instructor
Bruce MacInnes has been professionally coaching racing drivers for over 40 years & has successfully competed in a wide variety of Production cars, Formula cars, & Prototypes. As a Senior Instructor at The Skip Barber Racing School, Bruce's credentials include two Pro Formula Ford National Championships, 18 lap records, Formula Magazine's "Driver of the Year" (twice), and winning Lime Rock's Can-Am in a Lola T-333 Chevy (in the rain). Bruce brings a love of racing, a passion for coaching, and a genuine concern for his students to our Sport. He is committed to helping every driver achieve progress.
Brett Goodman
Chief Instructor - Canada
Brett moved through downhill ski racing as a competitor, then a coach, then on to winning an Olympic Medal with his co-competitor in the World Paralympics.  He car raced for a living as the Team Owner / Driver and race winner in his Texaco sponsored entry into the Player's / GM Motorsport Series and also won a National Champion in Samsung's entry in the top Grand Sports class of the Firestone Firehawk Series (with co-driver Ken Wilden).  Brett has been coaching drivers and car racers for over 34 years and was the founder / co-owner of the Bridgestone Racing Academy.  One of the highlights of that was the great opportunity to design and have built a proprietary race track at Mosport's Driver Development Center (through track owner Dr. Don Panoz and President Myles Brandt).  A true "coach's coach", Brett's reputation and achievements are the perfect fit to head up our new Skip Barber Formula Racing School in Canada.
Eric Powell
Chief Administrative Instructor
Eric has 20+ years of experience behind the wheel of everything from karts to formula cars, to custom built stunt cars at Disney World for their live action stunt show. Most recently, Eric has enjoyed a winning career in multiple classes in World Challenge. Before joining Skip Barber, Eric worked as a private driver coach for many successful race teams. It was in this role that Eric honed his passion for teaching the art of driving. As the Chief Administrative Instructor at Skip Barber, Eric has the rewarding responsibility of constantly improving and expertly executing our world-renowned racing and driving curricula.
Don Kutschall
Lead Instructor
Don has been with Skip Barber Racing School as a Lead Instructor since 1990. In his storied history of coaching some of the most successful racers in the world, he has served as site manager of Lime Rock and Sebring for Skip Barber.
Sebastien Sauriol
Lead Instructor
Sebastien Sauriol 30 years of motorsport experience. Started his career in 1987 in Quebec. In 1997, he won the renowned Jim Russell Formula 2000 championship and scholarship at Le Circuit Mont-Tremblant. In 2010, he finished 4th at the 24hrs of Dubai in a prototype car. He still competes in endurance racing mostly in Canada and in the U.S. Since his career debut, he has over 200 race starts. He is an experienced driver coach, chief-instructor, racing school and race team manager and founder.
Mike stillwagon
Lead Instructor
Mike Stillwagon over 25 years of motorsport experience. He has competed in the EMRA Regional Racing Series. He continues to race (win!) with NASA. In 2015 and 2016 he won the Iron Champion. Mike has instructed the Retired Ferrari Challenge during his career and was an instructor for the World Class Driving School. Mike is truly committed to helping every driver achieve their fullest potential!
Tyler Agan
Instructor
Tyler Agan got his start in karting in 2004 and became an IKF National Champion in 2007, just 3 years after first driving a racing kart. All together he has won a total of Five IKF National Championships along with numerous local and regional championships. Tyler still thoroughly enjoys racing karts around North America at a high level and always enjoys the opportunity to race whatever he can.
Tyler became a Skip Barber Racing School instructor in 2013 and has taught programs including the Hagerty Driving Academy and racing school programs.
Stephan Bastrzycki
Instructor
Stephan grew up on dirt bikes, starting at the age of 10. His entry into auto racing began in 1994 with the Sports Car Club of America (SCCA). At the end of the next year he was offered a job by the Skip Barber Racing School and has been working there in some capacity ever since.
Throughout the rest of the 90's Stephan continued to race in the SCCA's ITS class, collecting many wins and podium finishes. From 2000-2003 he competed in the SPEED World Challenge Series while also running a dyno tuning business specializing in Engine Management Systems. Throughout his years in motorsports, Stephan has taught thousands of aspiring race car drivers, lead hundreds of corporate events at race tracks, and worked with various manufacturers to introduce new vehicles into the marketplace at various venues all over North America.
In 2008 Skip Barber started a sedan car race series with the MX5. Stephan was one of the two main test drivers and data coaches for those cars until the end of the series in 2017. This included helping develop a Pro version of the car which ran as a class within the SCCA Battery Tender Series.
Outside of Skip Barber, Stephan is the Data Acquisition Expert for SCCA Pro Racing's F4 and newly launched F3 series, which provide an FIA ladder system into the top levels of racing.
Dan Donza
Instructor
Dan is a retired Detective from the New York City Police Department. He was a lead instructor and master instructor for the NYPD Driver Training Unit. He possesses instructor certificates from the New York State Division of Criminal Justice Services in General Topics, Emergency Vehicle Operation, and Police Pursuit. He holds a Master EVOC Instructor certificate along with a National Driving Instructor Certificate from the Federal Law Enforcement Training Center. Dan also taught dignitary protection driving, driver improvement programs, car control clinics, and traffic safety programs.  He started his road course racing instruction back in 2014 with DeMonte Motorsports and continues that today with the Skip Barber Racing School.
Ben Haymann
Instructor
Ben Haymann has been instructing and coaching for fourteen years, getting his start driving rally cars on frozen lakes at age fifteen and transitioning to road courses at sixteen. A few years later he started racing spec Renaults in SCCA and Audi's in AER.
He became a Skip Barber Racing school instructor in 2013 and has instructed programs ranging from teen driving clinics to high performance driving schools to coaching the Skip Barber Racing Series. Outside of Skip Barber, he has worked as a pro instructor for Monticello Motor Club where he raced for RS1 in a Porsche Cayman in IMSA. Additionally, he was a stunt/precision driver for a Jaguar commercial and worked has a pro driver for various car manufacturer brand launches.
Brandon Kennedy
Instructor
Brandon Kennedy is a Professional Driving Instructor and Race Car Driver from Las Vegas, NV with over 16 years of racing under his belt.  Brandon has a winning background in Sports Car, Motocross, Dirt Track, and Off-Road racing to add to his portfolio.  Brandon Joined Skip Barber Racing School in 2018 and also drives the Official Pace Car for Blancpain GT World Challenge for Skip Barber Racing School.
Christina Lam
Instructor
Christina Lam got her start in motorsports during a vacation to Germany in 2012. A touristy trip to the Nürburgring had her in the driver seat of a Suzuki Swift racecar and learning how to drive manual, all at one of the most famous tracks in the world. When she returned home, she dived head first into autocross and track days. There was no turning back. Since 2014, Christina has been heavily involved as a staff member of NASA and is the current director of the Time Trial program in the Northeast region. She was extremely successful with her prior car, a 1998 E36 M3 in GTS2 with National Auto Sport Association (NASA). In 2017, Christina finished 2nd in the GTS2 Championship in NASA Northeast and 7th overall in the Driver Championships in the Northeast region out of 132 racers. She finished on the podium with a 3rd place at NASA's 2017 Eastern States Championship race at Sebring. In 2019, Christina was named as one of twelve mentors to be part of the Bell Helmets Women in Motorsports mentor program. The program offers the opportunity for women interested in careers in motorsports, whether on or off the track, the opportunity to receive advice and guidance from women with diverse professional motorsports experience.
In 2018, Christina joined Skip Barber Racing as an instructor. She instructs race school programs and teen driving schools for Skip Barber.
Michai Stephens
Instructor
Michai Stephens is a first-generation racing driver who first broke into the Motorsport Industry thanks to Skip Barber Racing School in 2013. A recipient of a racing scholarship based on zero racing experience, Michai went on to be the recipient of two back to back Team USA Scholarship nomination and finish runner up in the Skip Barber Championship Shootout by 1 point. Michai's natural abilities and foundational experience gained through Skip Barber Racing School, saw him race against some of the world's best up and coming single seater racers. Michai has been an instructor with Skip Barber since 2015.