get to

know our
instructors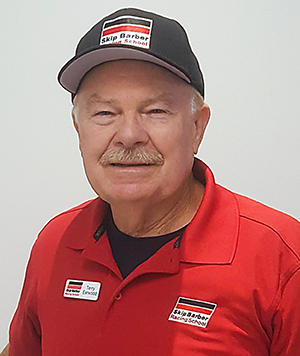 Terry earwood
Chief Instructor
Terry is the winningest driver in the history of the Firestone Firehawk Endurance Series (which became Grand-Am Cup/Koni Challenge). In addition to being our Chief Instructor, he is also the Driver Development Manager for SCCA Trans-Am. It was Terry who brought Driving School curriculum to Skip Barber in 1984, based on a curriculum he designed for the Georgia State Police. He started racing years ago, but it wasn't road racing — it was drag racing. He was the 1973 NHRA Super Stock National Champion (in an SS/EA 1971 Hemi 'Cuda). Numerous Drag Racing National and Regional event wins, three Regional autocross championships. Inducted in the NHRA Southeastern Drag Racing Hall of Fame in 1996 and the East Coast Drag Times Hall of Fame, in 2002.
bruce MacInnes
Senior Instructor
Bruce has been professionally coaching racing drivers for over 40 years & has successfully competed in a wide variety of Production cars, Formula cars, & Prototypes. As a Senior Instructor at The Skip Barber Racing School, Bruce's credentials include two Pro Formula Ford National Championships, 18 lap records, Formula Magazine's "Driver of the Year" (twice), and winning Lime Rock's Can-Am in a Lola T-333 Chevy (in the rain). Bruce brings a love of racing, a passion for coaching, and a genuine concern for his students to our Sport. He is committed to helping every driver achieve progress.
Gerardo Bonilla
President of Racing Schools and Race Series
Gerardo's coaching experience dates to 1996 as a Novice Instructor at Martin Sports Car Club. He is a 1993 Skip Barber 3-Day graduate and joined as an Instructor in 1998. Gerardo directed the Skip Barber National Championship in the mid-2000s, coaching a successful generation of drivers including Josef Newgarden, Connor De Philippi, Conor Daly, Ricky and Jordan Taylor, and John Edwards. In the 2010s Gerardo directed another racing school program, served as Race Steward for the USF2000 Championship, and coached a number of race teams in IMSA, USF2000, and USF Pro 2000. In 2022, Gerardo returned to Skip Barber as President of Racing School and Race Series. Gerardo holds championships in Star Mazda (USF Pro 2000), IMSA Lites, and Skip Barber National Championship. His driving experience includes vintage F1, Factory Mazda LMP2, LMPC, GT3/GT4, Indy Lights, USF Pro 2000 (Star Mazda), USF2000, Formula BMW, IMSA Lites, Skip Barber National Championship, Spec Miata, sim training, Formula SAE, dozens of Autocross cars, and was inducted in the Indy Pro 2000 Hall of Fame in 2019.
Gerardo enjoys the challenge of finding the right words to help drivers go faster!
"Trust the process!"
Carter Fartuch
Lead Instructor
As a first generation racer, Carter started his career in go karts where he was given a chance to race professionally as a factory driver. After winning some big karting championships, Carter went to Skip Barber Racing School to transition from karts to cars. Carter has driven everything from vintage touring cars in 24-hour endurance races to GT3 and GT4 machines – and has won in every car he's driven! He takes his knowledge that he used to win in World Challenge, IMSA, and Saleen Cup and passes it along to every student he teaches at Skip Barber Racing School.
Don Kutschall
Lead Instructor
Don has been with Skip Barber Racing School as a Lead Instructor since 1990. In his storied history of coaching some of the most successful racers in the world, he has served as site manager of Lime Rock and Sebring for Skip Barber.
Mike stillwagon
Lead Instructor
Mike has over 25 years of motorsport experience. He has competed in the EMRA Regional Racing Series. He continues to race (win!) with NASA. In 2015 and 2016 he won the Iron Champion. Mike has instructed the Retired Ferrari Challenge during his career and was an instructor for the World Class Driving School. Mike is truly committed to helping every driver achieve their fullest potential!
Ken Fukuda
Director of Race Series and Driving Schools
Ken brings a wide breadth of racing and teaching experience spanning across the globe. Selected as a Jim Russell Scholarship Shootout invitee at 17, to racing open-wheel in Canada, amassing wins and track records in karting, formula cars, and sedans, to more recently becoming the highest finishing American in his class at the Nürburgring and the highest finishing Japanese driver overall, beating an ensemble of factory drivers and Le Mans winners all on his first time at the Green Hell. Side note: At 13, Ken snuck off from home, boarded a Greyhound bus to Monterey's Laguna Seca and was given a hotlap around the track by a Skip Barber instructor. It was on that day, that Ken's dream to become a professional racecar driver solidified.
Dan Donza
Instructor
Dan is a retired Detective from the New York City Police Department. He was a lead instructor and master instructor for the NYPD Driver Training Unit. He possesses instructor certificates from the New York State Division of Criminal Justice Services in General Topics, Emergency Vehicle Operation, and Police Pursuit. He holds a Master EVOC Instructor certificate along with a National Driving Instructor Certificate from the Federal Law Enforcement Training Center. Dan also taught dignitary protection driving, driver improvement programs, car control clinics, and traffic safety programs.  He started his road course racing instruction back in 2014 with DeMonte Motorsports and continues that today with the Skip Barber Racing School.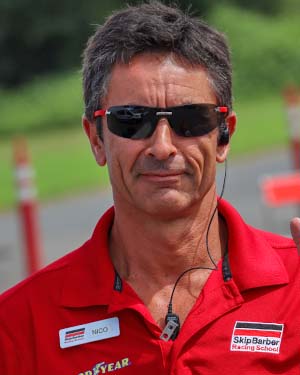 Nico Rondet
Instructor
Nico has been a professional race car driver for over 25 years. His professional racing career has taken him from Karts in Brazil to both Touring Car and Open-Wheel racing in France and England.  The late-1990's had him competing in the Barber Dodge Pro Series.  Rondet won every stage of the development ladder: the Dodge 2.0 liter Championship in 1996, Rookie of the Year in 1997 and the Series Championship in 2001. His efforts led him to a partial year at the Toyota Atlantics Series in 2002. In 2011, Nico raced a partial season of the Grand Am Continental Tire Challenge. Beyond Nico's talents behind the wheel, his 20 plus year experience in developing the racing craft have also allowed him to build a keen understanding of driving dynamics and telemetry interpretation. Since the early years of his career, Nico has taught performance driving to fellow professionals, up and coming drivers, and driving enthusiasts.
Simon Tibbett
Instructor
Simon began racing karts in arrive and drive type series in elementary school. When he turned fifteen, he began autocrossing with the Sports Car Club of America and once sixteen began doing track days before eventually moving into actual competition. Simon has raced everything from vintage sports cars to new GT4 machinery. Tibbett's record speaks for itself with numerous wins and podium finishes. He won an FIA international GT4 championship in 2019 driving a BMW M4 GT4 which included a podium at the Dubai 24 Hours. He continues to race internationally today primarily in endurance racing series. Simon translates his experience and knowledge to students at the Skip Barber Racing School to help produce world class racers.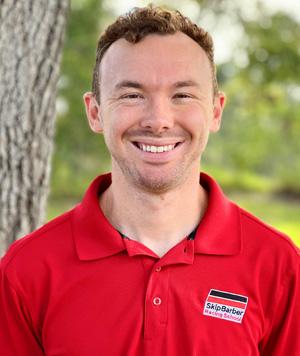 Mike Ogren
Instructor
Mike's two-decade experience has graced motorsport tracks from Florida to Canada. He currently drives in IMSA and SRO, the top levels of North American touring car racing. Beyond his time behind the wheel, Mike has happily instructed students through various programs and tracks around the country.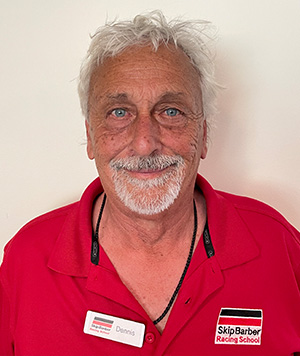 Dennis Macchio
Instructor
A 1980 graduate of Skip Barber, Dennis has had a long and diversified career in the sport. Driving credits include multiple national and regional championships in F cars, and several seasons of "tin top" driving in the IMSA Firehawk Series. At various times, he has held track records at "The Bridge", Watkins Glen, Charlotte, Savannah, and PBIR, among others. Coaching credits include Andretti and Burton families, Cam Dass and Conor Daly.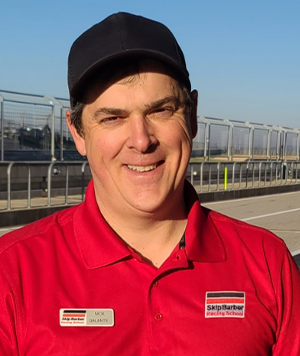 Nick Galante
Instructor
Nick found himself with a broken back after a snowboarding incident in 1998 and knew that if he ever got out of the hospital he would follow his life-long dream of racing cars. Luck would have it that his injury did heal, and Nick quickly began taking the steps necessary to make his racing dreams come true. He moved to Monterey, California, where he walked into Laguna Seca and told them he wanted to learn how to race. Despite the steep learning curve, Nick's eagerness and determination, in addition to a natural talent for racing, secured multiple opportunities for him to drive in many diverse types of cars and learn the art of racing. In 2007, Nick competed and won the scholarship for the F3 Jim Russell Championship Series and in the following two years won the Masters F3 Championship Titles. From 2011 to 2014, Nick began his professional driving debut in the Continental Tire SportsCar Challenge and drove his first full season in 2015 finishing tenth overall in the top GS class. Nick currently competes in the IMSA Michelin Pilot Challenge and the SRO GT4 Challenge. 
Randy Whitten
Instructor
Randy began auto-crossing in the early 90's, moving into high-performance track days, and then ventured into road racing. Highly respected for his ability to break down complexities into relatable talking points, Randy has worked for marques including Ferrari, McLaren, and Porsche. In addition to his over 20 years of experience in coaching and driver development, Randy owns and operates one of the country's most regarded exotic and collector car facilities.