Skip Barber Racing School
Off Road Academy
The Skip Barber Off Road Academy combines the adrenaline-fueled fun of driving a UTV with the expert coaching from Skip Barber Off Road Instructors. Our programs are designed to teach you how to access the full potential of these incredibly versatile machines, allowing you to explore areas unreachable by any other vehicle!
Providing industry-leading driver training since 1975, Skip Barber programs create a safe and secure environment to learn how to explore the outdoors. Through our partnership with Yamaha, you will be at the controls of some of the industry's most advanced and safest vehicles, such as the Yamaha Wolverine RMAX2 1000 R-Spec and Wolverine RMAX4 1000 XT-R.
---
Program Details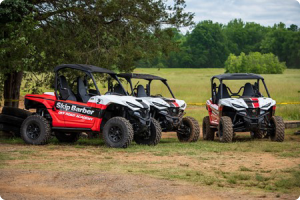 The One Day Off Road Academy
Students will begin their experience at the Skip Barber Off Road Academy in the classroom where our instructors will review the basic principles of off-road driving and the techniques that will be essential for a successful trip. Once out of the classroom our instructors will introduce you to our Yamaha UTVs, allowing you to become familiar with the inner workings of these state-of-the-art vehicles.
Next, it's time to get behind the wheel for the first driving exercises and cone drills. These are designed to give you confidence at the controls and teach safe riding habits. After a break for lunch, you'll begin obstacle clearance courses, learning to navigate rocks, trees, and other hazards.
The afternoon action continues into the forest where you'll follow our instructors on the trails and be introduced to the basics of bridge and water crossings. Day one ends with a final burst of adrenaline with a lesson in high-speed driving.
Upon completion of day one students will qualify for Recreational Off-Highway Vehicle Association (ROHVA) safety certification.
---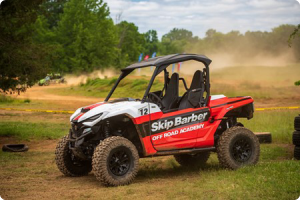 The Two Day Off Road Academy
Includes the One Day Off Road Academy. After a night's rest and with your experience from day one in hand, you'll begin to traverse inclines where our instructors will guide you on how to safely climb and descend hills. It's knowledge that will quickly be put into practice when you take on a series of moguls.
Understanding the conditions of the ground and how the vehicle will react to what's underneath it is one of the themes of day two. Students will learn and experience how the vehicle reacts to asphalt, compacted dirt, mud, water, and rocks.
---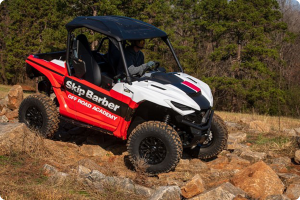 The Three Day Off Road Academy
Includes the Two Day Off Road Academy, students being to partake in full trail rides as well as learn recovery techniques such as winching, towing, and self-recovery. Students will then move into battlefield exercises such as convoy protocol and ambush response. The day ends with more night riding exercises, utilizing night vision goggles.
---
For more information call 866-932-1949 or email [email protected]

SU

MO

TU

WE

TH

FR

SA
1

2

3

4

5

6

7
8

9

10

11

12

13
16

17

18

19

20

21
22

23

24

25

26

27

28
29

30

31

1

2

3

4